History of Leslie Cheung Internet Fan Club
Year 1994

In 1994 fall, LCIFC made its first appearance in the newsgroup hk.entertainment. We had only 10 members at the beginning, including the current Editor Chi Tao and Vice President Ashley Lau. Email is the only means to exchange news and information, and there was practically no well organized activities.

At the end of 1994, rumor about Leslie's coming back was widely heard. We got very much cheered by it. Though it was still not officially confirmed, at least we did hear his voice again. In the movie The Bride With White Hair and He's A Woman, She's A Man, Leslie finally broke the 5 years silence and sang the theme songs himself!



Year 1995

With the upsurge of internet as a new media for communication, especially after the introduction of Netscape 1.0N, LCIFC was making great progress in 1995. We had more than 80 members around the world at the end of March 1995. As expected, Leslie made his grand comeback in July 1995, and signed a three year contract with Rock Record, one of the biggest music companies in Asia. His first comeback album "Love Leslie" was an immediate hit. It was the number one best seller in Hong Kong in 1995 and has been sold over 2 million copies in Asia.

Fans around the world welcamed Leslie back with great enthusiasm after a long wait of 7 years. At the same time, many criticisms about his "breaking his own words" emerged on media. There were pessimistic predicts that the comeback would ruin the perfect image he left to the fans years ago. Leslie was facing great pressure, both from both the high expections of people who supported him and the doubtful attitudes of those who would be more than happy to see his failure. The huge success of his first comeback album proved to everyone that Leslie Cheung is unrivalled as a unique and outstanding singer, and after the 7 years retirement he is still unreservedly the "best forever" in many people's heart. Moreover, due to his high acheivements as an actor after he quit his singing career, he was also widely accepted by youngsters who got to know him from his movies. As a result, his popularity increased by leaps and bounds.

LCIFC appeared on the World Wide Web (WWW) with grand opening on September 5, 1995. We received many compliments from commercial media, fans around the world and co-workers of Leslie's. The first version of LCIFC already stood out in all its peers and in a HK contest hosted by Hong Kong Star in 1995, LCIFC was nominated to be one of the top 10 best homepages. LCIFC is the first Internet fan club appearing on net. Our membership has reached 150 by the end of 1995. Many information were exchanged through our official mailing list. Among the hottest topics were Leslie's Vancouver house and the rumor about his sexual preference.

Our second major redesign of LCIFC have three versions, one normal version, one graphical version (we used progressive jpg and Real Audio in FEB 1996 and Netscape 2.0 only supports this version. Real Audio and Progressive jpg has been widely used only after 1997, LCIFC is always ahead of the latest technology) and one Japanese version as well.



Year 1996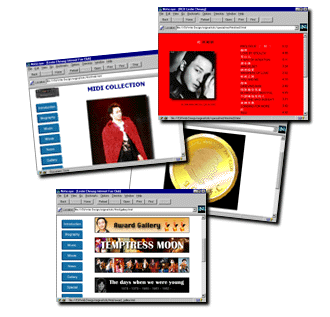 We made a third major redesign of LCIFC in Feb. 1996, with a distinct navigation user interface which was the main idea behind 1997's official LCIFC Web site. We received much positive feedback about the modification of our new site. LCIFC guest book was added to member's section and it was frequently visited and signed.

In the same month, many news media in Hong Kong started to talk about Leslie's decision on holding a concert again at the end of year. People were widely agitated at the news that Leslie Cheung, the best performance artist that Hong Kong ever saw, was finally to step on stage again after an absence of 7 years.

Quite a number of Leslie's movies were released in 1996, including Shanghai Grand, Temptress Moon, Tri-star, Who's The Woman,Who's The Man, and Viva Erotica. Temptress Moon has been selected by Time magazine to be one of the best 10 movies around the world in 1996, and Leslie was nominated as the best actor for his performance in Viva Erotica, which is also the first Hong Kong Category III movie that competed in Berlin Film Festival.

LCIFC became one of the most popular sites on the Internet, with an average of 8000 hits per day. In OCT 1996 we started to seek a sponsorship for LCIFC. With our efforts, we were finally able to locate three mirror sites for LCIFC in Hong Kong, USA and Canada respectively.

By Nov 1996 we have received some first-hand recording from Hong Kong of Leslie's latest album "RED". We were the first one to publish a preview of the album on net and we also helped Rock Record (HK) Ltd. to promote "RED" on-line. Songs were encoded with Real Audio Technology.

In the following weeks, Leslie announced to the media officially that his Across 97 Concert was scheduled to be on in Dec., and a series of world tour concerts were under plan. So many people were looking forward to seeing Gor Gor's great performance again on the stage that the tickets were sold out almost immediately. Meanwhile, Leslie finally realized his long held dream by starting a coffee shop in Causeway Bay, Hong Kong. Leslie named the shop "Wei Ni Zhong Qing", which was the title of both one of his greatest hit songs, and a movie he made in 1985.

Across 97 concert was a striking success, the whole Hong Kong got thrilled by Leslie's red high-heel shoes. Fans sent photos and their comments on every night's concert to LCIFC promptly. We soon published an on-line Across 97 concert show with song clips in Dec., 1996.



Year 1997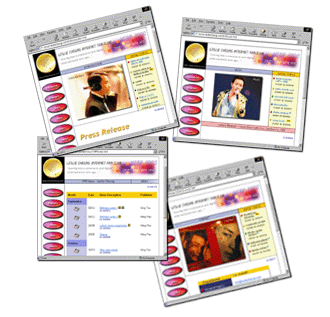 It's not surprising that many Japanese fans joined LCIFC after Leslie made his first world tour stop in Tokyo and Osaka. Floods of concert comments and photos were received from Japan. With the help of Japanese fans, and also fans around the world, LCIFC was able to publish an exclusive world tour ticket information, which benefit fans all over the globe.

Later came Leslie's world tour in Singapore, China, USA, Canada, Taiwan, UK, Australia... In every part of the world there were LCIFC members, and practically we were with Leslie in every single concert! Comments and photos from concerts all over the world were sent to LCIFC, which made the valuable 1997 world tour issue possible. Many new members joined LCIFC during the world tour and our members has reached 350 by the end of April 1997.

We decided it is the right time that LCIFC to have an official site, under the name of our idol Leslie Cheung. In March 1997, LCIFC embarked on the project that has been brewing for years to establish an official Internet site as www.lesliecheung.com, with a total of 300M storage and two OC-3 connections (50M/sec) to handle the 20,000+ hits per day traffic.

Soon the 10th June grand opening was announced to the world, especially to all the major media in Hong Kong. With the help of the professional Web design company Chi Tao Studio, LCFIC web is informative, elegant, and comprises many latest Internet technology, such as advance CGI/SSI, dynamic HTML, Java Script and Applet and Database system. Our site is one of the biggest HK fan club sites, containing more than 600 pages, 1000 pictures and 300 sound clips in Real Audio format. Over 150,000 hits were recorded in the first single week, and our site has been mentioned for many times in Asia news media. In the new LCIFC, members were required to pay a membership in order to balance the Web server cost and maintenance. Lisa Tan was appointed to be the 97/98 president of LCIFC in April 1997. Our homepage is updated frequently with news, pictures and exclusive collector items of Leslie Cheung. Again we are receiving much positive feedback and we highly appreciate everyone's support!

Happy Together is the only movie played by Leslie in 1997 so far, which won the Best Director Award in 97 Cannes Film Festival, the movie itself becoming one of the most debatable topics in town in 1997.

Leslie made his comeback concert to Japan in June, due to the his overwhelming popularity there. Both the Japanese audience and Leslie himself were deeply impressed and moved by the concerts, and Leslie called the 6/6 Tokyo concert "the best one I ever had among all 97 world tour concerts". The scene that thousands of Japanese fans who know no Chinese sang along with him "The Moon Represents My Heart" was both miraculous and touching.

On July 1st, Leslie performed as a special guest in Beijing for the 1997 Hong Kong handover ceremony. With the comeback of Hong Kong to China, LCIFC is also stepping into a new millennium. After a development of three years and with the efforts of all our members, we are becoming one of the best-organized fan club on internet. We are proud of what we have achieved, and we are confident that we are heading to a better tommorrow.

What's our future plans? Coming are the LCIFC 3rd year anniversary celebration, sending birthday card to Leslie, album preview. And a Japanese Web site is under construction as well. There are more to come. Stay tuned!



Year 1998

"Printemps" (Spring in English) was released in April 1998 and it was the long waiting Mandarin album since mid-1997. Rock Record and Tapes Ltd. (Taiwan) held a huge Asian press conference for Leslie on the releasing date. In the following months, Leslie fought to Japan and Korea for the release of Printemps. The event was so overwhelmed by his loyal Japanese and Korean fans. LCIFC was able to report those two events almost immediately the night after the event finished. During the month of Printemps, LCIFC setup a discussion forum for this Mandarin album. The responses were both positive and objective, many fans shared and contributed many precious ideas as well.

There had been a long silence after the release of Leslie's last award-winning movie, Happy Together, released in 1997. Finally, in late June 1998, another Leslie movie, "A Time to Remember" ("ATTR"), was released in Beijing. The movie aroused great controversy in China because of its approach in describing the life and love of a communist, as well as, challenging some cliches in traditional communist stories. Also, the fact that the communist hero was played by Leslie Cheung, a Hong Kong actor who, it was assumed by critics, knew little about politics and communism, was the focus of many reports about the movie.

Since most of our members don't enjoy the privilege of watching the movie as the release was limited to mainland China (it still is as of this newsletter), LCIFC tried to collect as much information as possible from various sources. One of our Hong Kong members, Alice Tsang, sent us a story outline of the movie, which was later found to be similar to that of the tape recordings of ATTR. Based on that, and with the help of many mainland Chinese fans, we managed to construct a very detailed story line of the movie. The translation of the story was quite challenging. From there, LCIFC introduced the story in Chinese and English, and presented reviews of the movie in an objective manner. The result of this effort was overwhelmingly positive and LCIFC received encouraging feedback from many members and actors from the movie.

On Oct.20th, 1998, we were very sorry to receive news that Leslie's mother passed away on Oct.18th, after major reports from the Hong Kong media. After a short discussion among staff members, we decided to send a flower wreath to Mrs. Cheung's funeral on behalf of LCIFC. We'd also like to thank the many members who volunteered to share the cost of the flower wreath.

Shortly after Mrs. Cheung's funeral, LCIFC released a special edition letter of condolence on Mrs.Cheung's death. The newsletter looked retrospectively at the relationship between Leslie and his mother during the past 40 some years. Many members left messages on our guest book or wrote us directly to express their great concern about Leslie and their appreciation for the promptness of the special newsletter.

26th December, 1998 was a special date for LCIFC, we held our first gathering in Hong Kong, Sheraton Hotel. There were nearly 50 attendants from 8 different countries, the response was great! Many credits goes to the gathering committee for making it a success, the exhibition, the food, the souvenirs, the video show, the programs, and the prizes too! The attendants (which included both members and non-members too) had an eye-opening experience with the exhibits on display, they are now mostly rare and extinct.

Throughout the night, attendants had to play games in order to win prizes that the committee had prepared. They had to refer to the videos and answer questions, and also dance, sing and do many performances as well. The prizes were even better, rare plastic records, posters, framed photos, mugs, are just a small part of the prize galore. Some prizes were even sponsored by the committee themselves. Everybody had something to bring back.

It was also a heartwarming night as everybody met up with their old friends, and made new ones as well, laughter could be heard in every corner of the room. A Gathering indeed! Many friends were already making plans for the year 2000, when they would gather in Hong Kong again, for Leslie's musical of The Chinese Ghost Story.

The night was coming to an end, and everyone sang together, The Moon Represents My Heart. What followed next was the photos shooting session. Each person took photos with their new found friends, and we finally took some group pictures, to be sent to Leslie. It would be an under-statement, to just say that the night was wonderful!
Year 1999
It was a memorable year for both Leslie Cheung and LCIFC. The exciting year begins with the long anticipated movie Moonlight Express it was released in March in Hong Kong, Japan and Korea. Moonlight Express is the first major movie invested by Japanese companies and co-started with both Japanese and Chinese actors and actresses. A plane full of Leslie's fans came to Hong Kong and meet with Leslie for the event, organized by Hong Kong Tourist Association (HKTA).
After almost a year preparation, Leslie's photo book "All About Leslie" was finally released in Japan and he held two autography sessions in Hong Kong and Japan. In Hong Kong, there were only 300 copies available at the bookstore, many fans came to the autography event early that morning and LCIFC helped members to sign the photo book and back ordered the photo book during the month of April, 1999. Following month with the excitement that Leslie was invited as the VIP guest and appeared in Anita Mui's concert and fans were very happy to see him on stage again, the atmosphere raise to maximum every time when he shake hands with his fans.
In June 1999, Leslie signed the contract with Universal Music Group (UMG), which is Alan Tam's music company previously known as Polygram. In fact, Leslie performed a duet song with Alan to show their friendship between right after joining UMG. It was again a first in history since the 80s.
In the same period, Leslie also setup his own production company "APEX Music Production" with long time business partner Alvin Leong. The press conference attracted hundreds of media in the region and the whole process was broadcasted over the Internet, LCIFC also help members to view this event by splitting the traffic with UMG.
The long time participated movie The Kid was finally released in summer 1999 and it was the first film solely directed by Leslie. The movie is a very well attempt and a step towards becoming a professional movie director in Leslie's career. The Kid was also nominated in Hong Kong Golden Movie Awards that year. At end of September, Leslie and Cecilia Cheung went to Paris to shoot his latest MTV movie.
Leslie released his first album for UMG in October, Count Down with You, he took a major part in the production of this album as the executive producer. The album was immediately a big hit in the region, taking top place in many radio station charts and brought Leslie many awards in the following months. For example, Left and Right Hands was one of the Top 10 songs by RTHK at the end of 1999.
Shortly after the releasing of Count Down with You, Leslie held an autograph session at HMV Hong Kong, it was his very first public autography session for his album in Hong Kong. More than 1,000 numbers of fans gathered around the area and waiting for Leslie to sign on their CDs. LCIFC were able to get many CD and posters signed. On the ceremony, Leslie stood 30 meter above the ground and shooting photographs in front of the huge poster.
At the end of the year 1999, LCIFC was invited to attend Leslie's A Time to Remember movie premiere and reported the whole events to members with photographs and autography.