Even though I am a fan, I was nervous about going to a dangerous area. Even though it was me who had been talking about going to Leslie's coffee shop since we began making plans to go to Hong Kong. "Wei Ni Zhong Qing," operated jointly with the owner of the Queen's Cafe, is located in Causeway Bay, near the Times Square shopping centre. It has a really minimalist white exterior, and seemed to be in the taste of the person who wrapped himself in those shiny costumes for his concerts over the past year (laugh). The menu is apparently mostly like at the Queen's Cafe. Incedentally, since I can't read, much less write, the name of the cafe (I forgot the characters), taken from one of Leslie's songs, I've wound up remembering the name of the restaurant as "know-floor-play-feeling."
Entering the restaurant, we are told, "Since it's Saturday and the cafe is crowded, it will take an hour to be served a meal, and thirty minutes to be served drinks." Hmph, that's hard. But, Miss X is persistent. After this exchange she decides, "Since we've had a reservation since 9:00, we'll wait for an hour and a half." Luckily, we were finally able to have a nice meal. Going inside, the restaurant really was crowded. I had thought that most of the people would be Leslie's Japanese fans, but there were actually a lot of Hong Kong people there. The interior was also color-coordinated in white and brown, and was like the concert. However, on the wall just as you go in are gold records, and right in front is a picture of the jacket for "Red," and I thought it was just like Leslie.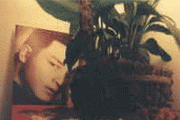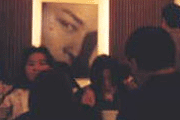 Leslie is apparently doing a charity drive for the Hong Kong Children's Cancer Society, and this picture of him is on sale at the cafe for HK$100; without hesitation, I stuffed a $100 bill into the box. Apparently a lot of Japanese actually do go there, because there was a Japanese menu. But I think that they really should use the word "set meal."(laugh) They used the French word "formule," and it included an appetizer, main course, and coffee or tea. The appetizer was, of course, borscht (the famous dish of Queen's Cafe). Miss X, Miss O, thank you for going with me.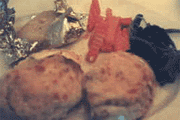 ( Crab Gratin Set Meal) (below picture - There was also steak and satay, kind of like a family restaurant) I don't mean anything bad, but all of the waiters were young men (we don't think they were chosen for their faces - laughter). For some reason, they said "ooki ni" (a Western Japanese greeting). Can the Kansai person who taught them this please tell us who you are? Finally, the nearby Queen's Cafe has apparently become mostly a tourist spot. They sell mugs and glasses with the cute logo on them. However, peeking inside, it looked like it had a nice atmosphere, I could see how it was a great location for "Days of Being Wild."
Credits: Original by Mimura Junko. Translated from Japanese version by Lori Hitchcock